MORTON GROVE – TMA longtime member Sko-Die in Morton Grove Illinois is proud of their team members upgrading their skills at TMA's training center in nearby Schaumburg. Patrick Steininger is Sko-Die's third- generation owner.
Recently, Sko-Die distributed the background stories of three of their employees – the first being Freddie Ramirez, embarking on his second year as a tool & die apprentice.
Sko-Die writes about Freddie: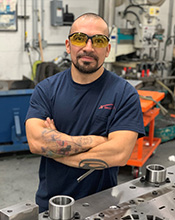 Freddie has been part of the Sko-Die team for four years and is currently handling the maintenance and repair of progressive dies. Prior to working in the tool room, Freddie spent a year on the Sko-Die production floor and two years in the welding department. He just completed the first year of a three year apprentice training program through the Technology and Manufacturing Association (TMA).
Freddie's work experience prior to Sko-Die includes years in CNC machining, trucking, and the printing industry. He is goal oriented, and once he completes his tool and die apprentice training, he is interested in getting involved in tool design and engineering.
"I like working with my hands, taking things apart and putting them back together. I enjoy the variety and challenges of my work at Sko-Die, as well as the opportunity to learn and advance within the company. They take a long-term approach and invest in employee training and provide us with the resources to do our jobs to the best of our abilities."
Freddie is father to a twelve year old son and a seven year old daughter and spends his free time immersed in their activities along with working on his Chevy Impala SS.
Read more at Sko-Die's growing team HERE.
Mr. Steininger was featured in TMA's November 2018 News Bulletin