Based on five key factors, George Mason University's Mercatus Center ranks Illinois' fiscal condition as nearly the nation's worst.
Only New Jersey is worse off than Illinois, the study recently released says. Missouri and Indiana are ranked "above average," while Iowa and Wisconsin are "average" and Michigan "below average." Illinois is the worst-ranked state in the Midwest.
Mercatus Center's ranking determination was based on an evaluation of states looking to the following:
Cash solvency.  Does a state have enough cash on hand to cover its short-term bills?
Budget solvency. Can a state cover its fiscal year spending with current revenues, or does it have a budget shortfall?
Long-run solvency. Can a state meet its long-term spending commitments? Will there be enough money to cushion it from economic shocks or other long-term fiscal risks?
Service-level solvency. How much "fiscal slack" does a state have to increase spending if citizens demand more services?
Trust fund solvency. How large are each state's unfunded pension and healthcare liabilities?
The study found similar distressing factors in the five lowest ranking states.
Maryland, Kentucky, Massachusetts, Illinois, and New Jersey rank in the bottom five states, largely a result of the low amounts of cash they have on hand and their large debt obligations. States that fail to address long-term drivers of debt and are not prepared for recessions will continue to rank poorly.

Each state has massive debt obligations. Each of the bottom five states exhibits serious signs of fiscal distress. Their large liabilities and low cash on hand raise serious concerns about their ability to pay bills.
Unfunded liabilities continue to be a problem. High deficits and debt obligations in the forms of unfunded pensions and healthcare benefits continue to drive each state into fiscal peril. Each holds tens, if not hundreds, of billions of dollars in unfunded liabilities—constituting a significant risk to taxpayers in both the short and the long term.
The bottom five states have changed since last year. Kentucky's position has declined, placing it in the bottom five this year. New York is no longer in the bottom five due to improvements in budget solvency. Illinois and New Jersey improved slightly but remain in the bottom five. Massachusetts also remains in the bottom five, in slightly worse positions than last year.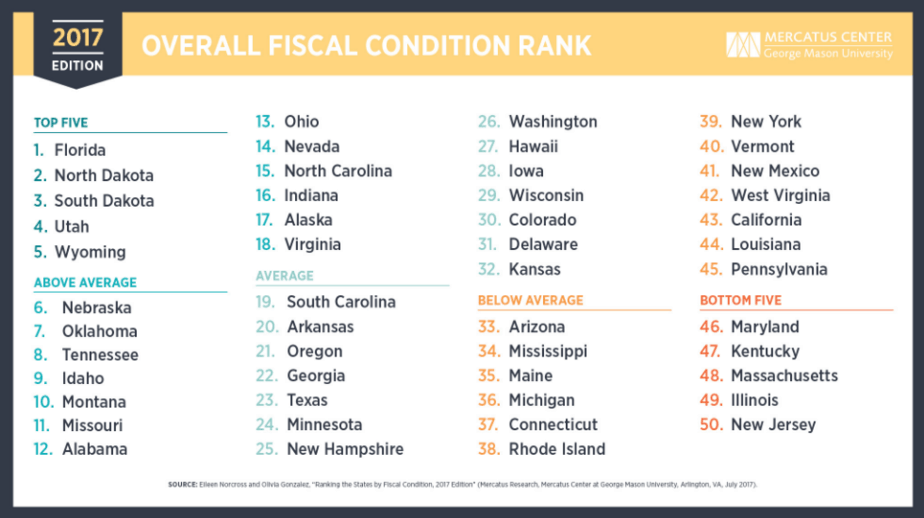 More information on the Mercatus Center's study available HERE