OAK BROOK, IL – In August, workforce development was the topic of a panel discussion hosted by the Women in TMA at their fall luncheon in at the Hyatt Lodge in Oak Brook, Illinois.
TMA Board Treasurer Nicole Wolter (President of HM Manufacturing), TMA Board member Jess Giudici (Senior HR Manager at Duravant), and Tanqueray Hart (Talent Development Manager at Dexter Magnetic Technologies) shared their thoughts on the topic. The panel moderator was Fran Eaton, TMA News Bulletin editor and freelance journalist.
Tanqueray Hart said from her perspective, the definition of "workforce" has changed from ten years ago. "The idea that people are costing business has changed. It's no longer about what they're costing us, but more about how they can deliver and enable us to generate revenue. They're really seen now as revenue generators," Hart said.
For Jess Giudici, the term "workforce" suggests not only the immediate workforce, but the future workforce. Adding the word "development" changes the concept.
"It includes developing team members' internal being, making them successful in their own personal development, while also relating to the community you're in. That's part of considering future workforce development," Giudici said. "How are you partnering with the community and associations available to encourage the workforce?"
Nicole Wolter shared from her perspective as a small manufacturing company owner, one whose situation calls on her to wear many different hats on a given day.
"For me it's not just about 'Next Gen' or your current workforce, it's about developing internally and how you do that," Wolter said. "As a small business, for us it's about cross-training and developing everyone's skills. Then we can reach out with internships and apprenticeships. It's about keeping everyone energized."
The panel's conversation then turned to how the COVID pandemic affected their companies' workforces.
Nicole Wolter recalled how her team of 20 worked long hours to meet their company's demands, and caused her to see an urgency for them to have time off for rest and to reset during a time of such high stress. She said it was important to post job openings for new people before it becomes necessary. It was also important to be as flexible as possible and work with people's changing schedule needs.
"I always keep a job board open; I always have openings on Indeed (an online job bulletin board)," Wolter said. "Even if I don't have immediate openings, I still meet with people that apply for them. If I don't have an opening, I ask them if they'd be open to another company that does need what they do."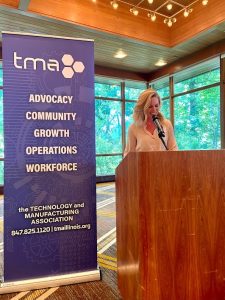 Tanqueray Hart said for her company, it was important for the team to see company leadership leading from the front. So, for her team it was, "Get out on the floor, be there. If I'm asking you to come out everyday to work, I'm right next to you," she said. "As leaders, we have to lead, not just manage. And we're very grateful we did not have to lay off, furlough or cut pay."
It was also important to convey to employees that their safety was important, she said. So important, it trumped profit.
"We let our people know that we were not going to put their safety at risk for a dollar," she said. "We showed them how we were putting them first. For example, I went to Costco or wherever to find hand sanitizers and cleaners early in the morning so in that way we would let our people know their safety was important to us."  A side benefit from showing that concern, she said, was retaining their people.
The discussion then turned to solutions: How do we build the manufacturing workforce? What have you done that has worked well to bring in new team members?
Jess Giudici said with her marketing background, she looks at potential employees as buyers. "So, I ask where are they? How can we attract them? Obviously, money is important, but money isn't what makes a person feel fulfilled," she said. "People also want to know the company will train them. We offer that information."
Giudici said her company reaches out to where potential candidates are on social media and uses that venue to make applying for jobs easier and more convenient.
Tanqueray Hart said a culture change is taking place. She said that mission, vision, values of a company are all good and necessary to have, but that another aspect should be considered.
"We need to decide how will we help our people achieve that vision. How? We offer training to help them with their jobs. We need to explain to them what that looks like. For me, to develop culture is to ask, 'What's your methodology to achieve that vision?'" Hart said. "How do you define your culture and put it into action affects how you will develop your workforce."
Nicole Wolter urged her colleagues in the audience to share what's going on in their companies on social media.
"We need to be proactive. We need to show how cool your machines are. Showing how young your talent is," she said. "Social media isn't going anywhere. We need to tap into that changing, evolving culture."
The discussion was interesting and energized, but concluded with a fun question from the audience to Nicole Wolter: "What's the current most popular dance on TikTok these days?"
The Women in TMA's Chairwoman Amanda Dunlap (President of Abrasive West LLC) closed out the luncheon with an appeal for donations to the WTMA Grant program, which offers financial assistance to women currently in or training to be in manufacturing careers.
For more information, check the TMA website at www.tmaillinois.org to donate or request financial aid from the WTMA Grant program.
From the Sept/October 2021 TMA News Bulletin