SCHAUMBURG – TMA members that choose to. be a part of the organization's exclusive email network find in their inboxes queries and notices several times a week that manufacturers are especially in tune with.
The CMS-SIG Network, hosted and facilitated by TMA's Kent Gladish, offers qualified manufacturing employment candidates, ideas for local specific needs, and an array of unique questions and answers.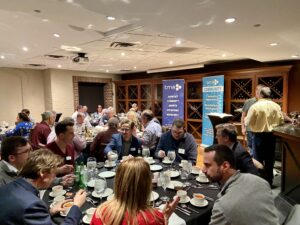 So TMA News asked Gladish, "What is CMS-SIG and how is it implemented among TMA members?"
"I was hired 18 years ago by TMA's Board of Directors to help members one on one with Marketing," Gladish told TMA News.  "I created a sub-brand called 'Commercial & Marketing Service.'  I then created a 'Special Interest Group' of those members who I had worked with. The 'CMS-SIG' was born to help my clients help my clients. It then grew to all members whom I've met helping one another through a Constant Contact list."
Last week, the CMS-SIG Network gathered for a meet and greet that had been postponed due to COVID last year. This year, the turnout was substantial and exciting for those that gathered.
For more information about how to get into the CMS-SIG Network, contact Kent at kgladish@tmaillinois.org
A special thanks to Justine Ewald for the photos …