WASHINGTON – Atlas Toolworks' Chief Alignment Officer Zach Mottl visited the White House Monday, invited by President Trump to celebrate US manufacturing at the Administration's second annual "Made in America" product showcase.
Mottl, who also serves as Technology & Manufacturing Association's Government Relations Committee chairman, had a chance to sit in the cockpit of Lockheed's F-35 Lightning II stealth fighter parked in the White House driveway.
The F-35 includes many parts made at Mottl's fourth-generation family business located in Lyons, IL, Mottl told TMA News.
"It is very encouraging to have a president that puts this kind of focus on USA manufacturing, and he's right to do it," Mottl said. "Our nation's future is at stake."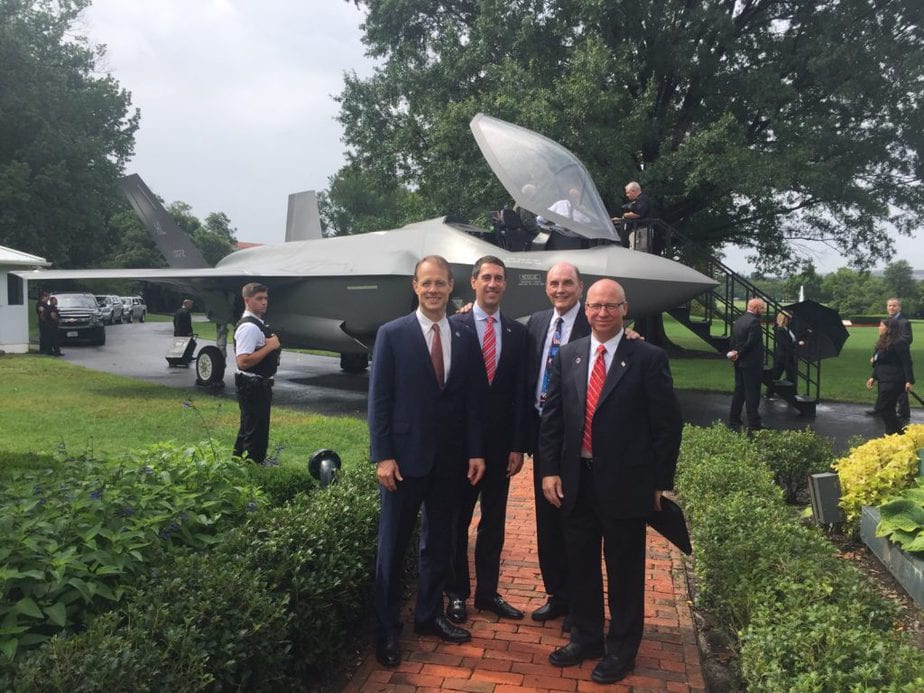 Zach Mottl (2nd from left) with Michael Stumo (left) of Coalition for Prosperous America and others
Before touring the display outside the White House, President Trump addressed the manufacturers visiting from around the nation. He defended his trade theory that is being criticized among some US manufacturers now dealing with the 25 percent tariff on steel and 10 percent tariff on aluminum imported from China, Mexico, Canada and the European Union.
"Our leaders in Washington did nothing, they did nothing. They let our factories leave, they let our people lose their jobs," Trump told the manufacturers. "That's not free trade, that's fool's trade, that's stupid trade and we don't do that kind of trade anymore."
The state of Illinois was represented by Lincolnshire's Klein Tools at the "Made in America" showcase.
More about Atlas Toolworks' Mottl Family HERE.
(AP Photo of President Trump with Lockheed executives)