INNOVATION AND GROWTH OVER 30 YEARS AND 2 GENERATIONS
"I'm Tom Roeser. I've been at OTTO Engineering 30 years. That's all you need to say about me in a profile."

Those words are indeed precise, efficient and sufficient, yet they also say so much more about the President and CEO of OTTO Engineering in Carpentersville, Illinois.

Tom Roeser leads a 500-person company his late father Jack Roeser started alone in his basement 60 years ago.

Since its start, OTTO Engineering has designed and manufactured control switches, and for over 25 years it has created audio accessories for demanding applications. "I could not have started this business," Tom told TMA News Bulletin, "but my father would not have grown it this aggressively."

The elder Roeser worked for a substantial Illinois manufacturer before quitting his job and starting his one-man operation in 1961. The drastic career change contributed to the breakup of his family, but led to an especially close relationship between Roeser and his middle child, Tom.

"My father and I developed a unique friendship. I would go to his factory to spend time with him. I began working there with him and three other employees he brought on. When you're that close, you not only learn the technology, you learn about people," Roeser said. "Through all that, we were able to build this company due to a mutual trust between the two of us."

Roeser went to Purdue University to study mechanical engineering. He landed a job with Baxter Pharmaceuticals, and along with 5000 others was laid off in 1986. An employee of OTTO called him and told him he needed to come to OTTO to help his father who was then 64, and contemplating the company's future. Roeser decided to try.

On his first day at OTTO, Tom's father Jack took him aside to explain the plan for his company.

"The employees can't have two bosses – and the one they look to can't be me. I want it to be you," Jack said. "My father's wisdom was amazing," Roeser said. "He knew he had to let go, while he was here every day for a long time. He answered questions he was asked like an Encyclopedia Britannica, but you had to ask first if you wanted any information."

First Jack, then the two of them together gained several patents – many which were groundbreaking for the industry.

Today, OTTO Engineering employs 500 men and women and the one company has expanded to three divisions, now including OTTO Controls and OTTO Communications.


Roeser, now at age 69, is focused on the company's future and the challenges that lie ahead for the manufacturing industry as a whole. Aware of the "silvering" of his longtime dependable team, he's worked hard to reach out to the next generation with an emphasis on changing the public's perception of the industry.

OTTO's new 90,000 square foot technology center is "the cleanest factory you've ever been in," he said. "There was a strategy to making this building look like it does, and why we call it a 'tech center.'"

"Sadly, parents don't even think of careers like these for their kids. That's why we are so eager to give tours for students and parents. If we bring them in here, and they have any interest, the ones we have to hook is mom and dad."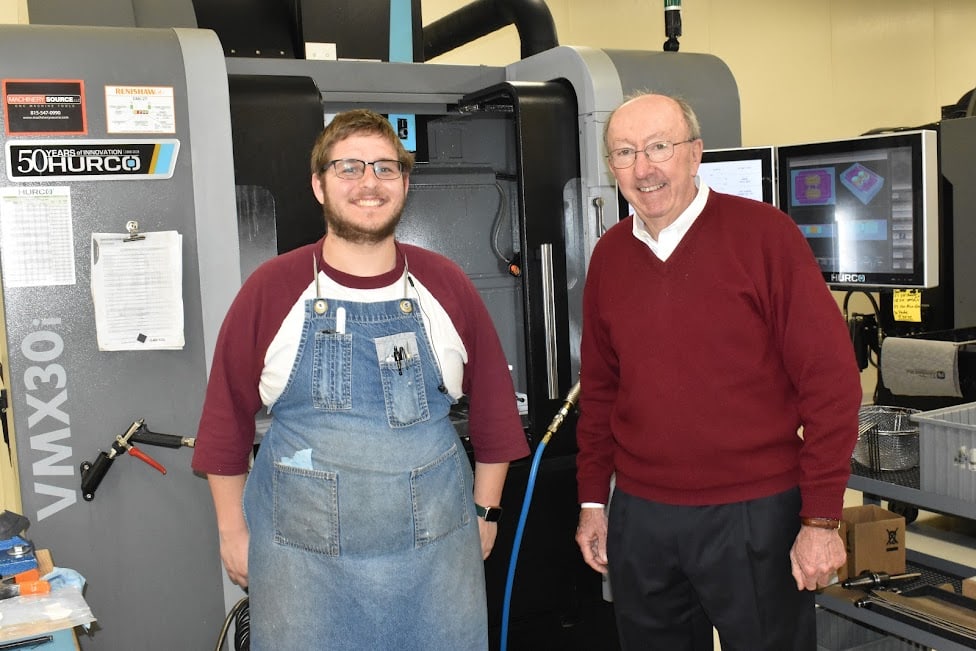 OTTO now has 15 apprentices on site – all of which Roeser expects to be trained or continue training with the Technology & Manufacturing Association. This year, OTTO had three graduate from TMA's three-year programs in tool & die and CNC machining.

"High schools aren't doing enough to help. We could develop our own curriculum here at OTTO, but TMA makes it easy, and it's high quality training. Everyone with TMA says it is an exemplary program for training in CNC and tool & die, as well as mold making," he said.

Seeing young people progress at his company is especially rewarding and fulfilling for OTTO's owner. He immediately shared a story about one of his employees.

"One young man, Steve, didn't have a clue what he wanted to do for a living. His mother worked in our machine shop. A couple of guys took him under his wing, and he grew into a successful career. He got himself a wife, a minivan, a dog and eventually, a house. For me the reward is not about the money – it's about what a person can do with those resources," Roeser said.

"I didn't do anything but let them be themselves," he said. "He thanked me for giving him the freedom to do his job."

Roeser went on to explain his successful business philosophy.


"Everyone loves jobs – but they tend to hate capitalists, job creators. You can't say capitalists are bad if you love jobs, because you've also got to love the job creators. The job creators are not creating a job for you. They're creating a need. And then you get to fill the need.

"So I want people to know I'm a greedy capitalist because they should be, too. Self-interest is a great motivator, but that includes values. To be a good capitalist, you've got to be a good person, I guess."

The "greedy capitalist" Roeser has employed hundreds over the years, bought up 150 foreclosed Carpentersville homes, improved them and offered them back to the community, invested in struggling local businesses and committed time and resources to numerous non-profit groups, including local Boys Clubs.

"People will say capitalism is immoral. But I would say the most moral thing is capitalism," he said. "Think of this – you work for me today, I will promise to pay you tomorrow. You ship me those goods all across the world, and I promise to pay you in 30 days. That morality in that is much different from 'You will do this, this way.'

"Capitalism is very moral. If you're immoral, capitalism falls apart. Don't pay one supplier – you'll lose other suppliers. It is absolutely moral, it can't be anything else. But it is self-interest. I win when they win."

But as the TMA News Bulletin interview concluded was the time when Roeser emphasized, "I'm Tom Roeser. I've been at OTTO Engineering 30 years. That's all you need to say about me in a profile."

We said it, Mr. Roeser. But there was and is so much more…

OTTO ENGINEERING, INC.
TOM ROESER
PRESIDENT & CEO
OTTO ENGINEERING, INC. OTTO ENGINEERING, INC.
2 E. Main Street
Carpentersville, IL 60110

From TMA's May/June 2021 News Bulletin