In photo: Hillary & Ross Joy with Samuel Joy (l to r) 

Ross and Hillary Joy have been working as a powerful, energetic team over the past few years to revive a small manufacturing company in South Elgin, Illinois.
Their business, LaFox Screw Products, Inc. is third generation owned and -operated. They offer unique forming, drilling, tapping, threading, knurling, slotting and other secondary operations on an array of materials and sizes.
Dominick Joy and his wife Anloyce immigrated to America from Italy. They lived through the volatile times of World War II and in 1962, family legend says they started LaFox Screw Products to provide an alternate path for their five sons to avoid fighting in the Vietnam conflict. Their family chose to serve the cause of democracy through offering crucial machining.
The business thrived and provided for the Joy Family for years, even after Dominick passed away. After Anloyce passed away in 1998, Samuel continued the business with the help of his wife Kathryn. LaFox continued serving their steady array of customers, but as Samuel and Kathryn grew older, they began downshifting. The business dwindled down to three employees: Samuel, Kathryn and their older son, Ross.
Kathryn passed away in 2018, leaving Samuel and Ross to decide the company's fate. Samuel, at age 68 then, reconsidered their decision to close LaFox's doors. Instead, he wanted to keep busy as long as his health allowed.
Ross talked it over with his wife Hillary and she agreed to join her husband and father-in-law's efforts to resurrect LaFox Screw Products. Just as Ross' mother and grandmother had in the past, Hillary became an essential part of the company's success.
In the past two years since Ross and Hillary officially took over the reins of LaFox Screw Products, their business has grown 76% – an amazing revival of what was once a nearly-closed small manufacturer.
LaFox Screw Products offers unique, custom services on machines that have been in use since the 1940s and '60s – and still perform the needed jobs efficiently and economically. While Ross is trained to work on CNC machines, the company and their machines' expertise is meeting the demands of specialized projects.
Ross explained, "Computerized machines aren't always as efficient as these machines made in the 1960s for certain projects. We're a small niche. There are not very many of these machines left and they keep running well."
Hillary admits she couldn't run one of the machines on the shop floor, but since June of 2020 when Ross took over the company and she joined the effort, she's learned what those machines' capabilities are. Hillary's determination to re-open accounts with past customers forced her to learn quickly as she picked up the phone to re-vitalize LaFox Screw Products.
"No one really knew what Ross' mother did in the office. They were focused on what was going on out on the shop floor," Hillary said.
Pointing to nearby file cabinets, she said, "I went through every one of those files and every business and looked up to see if they were still open. If we did any business for them, I just started making phone calls and going, 'Hey, we're open. Can we give you a quote again?' Some of them said, 'We don't know why we stopped with you,' or 'We thought you were closed.'"
Connecting with former regular customers made all the difference, she told TMA News Bulletin.
"Once we got some old customers back and added some new ones, it was huge," Hillary said. "It made us think, 'Ok, yes, we can do this.'"
Then, with the urging of TMA's Kent Gladish and his business marketing suggestions, Ross began promoting LaFox Screw on social media, especially LinkedIn. As part of his strategy, he videos how their vintage machines work – for posterity and for basic information.
"We got new customers through LinkedIn," Hillary said.
The mother of two active teens, Hillary not only helps with LaFox Screw's office work, she is a real estate broker and manager. Her experience in that field led her to encourage involvement with TMA, she said.
"When I started working here, I knew we needed to be part of an association. I'm currently president-elect of a local Realtor association. Associations are important if you are a small business. You've got to be involved with others in the industry. We did a lot of research, and TMA was the best choice for us," Hillary said.
Ross said their biggest challenge right now for their business is not so much supply chain issues or pricing as it was a few months ago.
"I'm not really having trouble getting material and noticing costs are starting to come back down in the last month or two," he said. "My problem right now is I'm in between. I get any busier, and I need to hire more help, but it would be tight to do. Right now, I've got a couple of part timers that are a big help, but they're here more than you think they will be. We're figuring it out."
Part of "figuring it out" to revive LaFox Screw's clientele has been Ross and Hillary's commitment to customer service.
"One of the goals at first was customer service. Not only did we want to get the business back up and be successful, but we wanted to set ourselves differently than everybody else. Our point was and is quality and customer service. So if we say it is going to be done by a certain time, we're going to honor that," Ross said.
And Ross' teammate Hillary is on hand to keep that goal out in front.
"You know, I watch things and I tell him when he's one way or another. I'm a data-in, data-out person, and but one of the big things is promising something and then committing. If we're not getting something out on time, we're letting the customers know what's going on," she said.
It's the same successful LaFox Screw Product's system founders Dominick and Anloyce Joy tapped into before second-generation owners Samuel and Kathryn Joy did – and way before Ross and Hillary Joy came along.
Check out Ross and Hillary Joy on LinkedIn, or virtually visit with them at www.LaFoxScrewProducts.com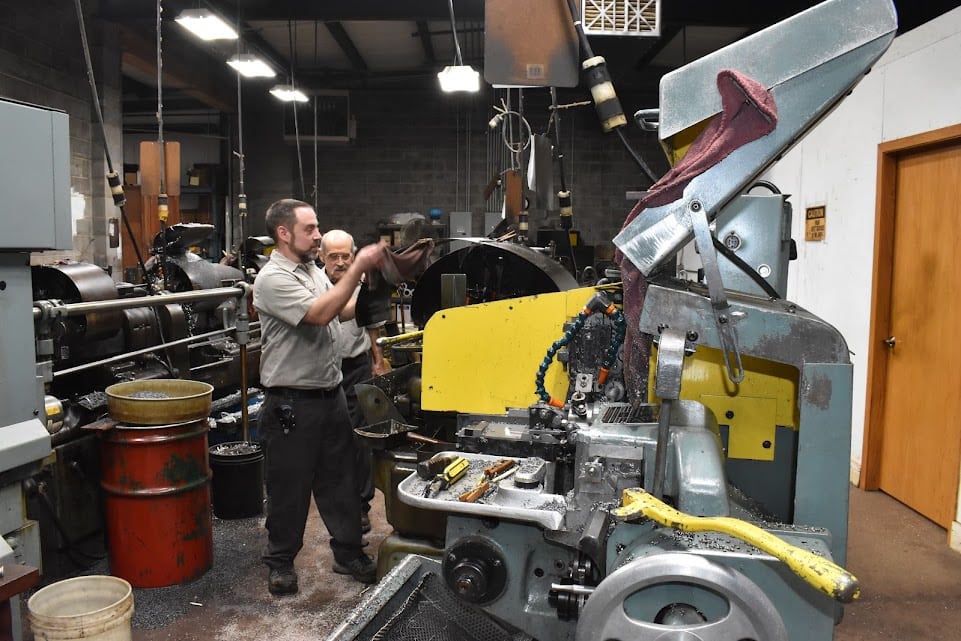 First published in TMA News Bulletin – March/April 2022. By Fran Eaton, TMA Bulletin editor