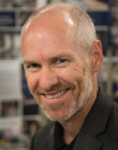 Vice President of Member Development Kent Gladish says he has been "helping members with whatever they need" since he started at TMA in 2003.
TMA News Bulletin asked Kent to answer these questions with one sentence – and we'll guess some of his answers will surprise you, no matter how well you think you know him!
Q: If you could have only one superpower, what would it be?
A: Run as fast as a cheetah
Q: What was your favorite TV show when growing up?
A: Ray Rayner
Q: What hidden talent do you have that most people at TMA don't know you have?
A: I enjoy utilizing trailing throttle oversteer and heel/toe for braking/shifting a rear engined, rear-wheel drive car.
Q: When did you accept a dare that you later regretted?
A: A fully submerged polar plunge in 33 F water was interesting.
Q: What's your favorite task at TMA?
A: Physically managing 80+ Ambassador badges!
Contact Kent at: 224.531.1911 or kgladish@tmaillinois.org