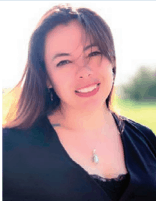 Every month in TMA's News Bulletin, we introduce to you one of our awesome staff members by asking them a few fun questions. Our last edition's TMA Team Star was Daniela V. Culotta, our General Ledger Accountant.
Daniela's main responsibilities at TMA include maintaining general accounting duties with all entities, analyzing and assisting with month end closes, and helping other departments with various tasks when TMA gets busy.
We asked Daniela the following:
Q: If you could have only one superpower, what would it be?
A: I'd want to be able to absorb the power to learn on the fly. I'm pretty good at absorbing information. I just want to be able to hone in on it and make it instantly learned. Kind of how Neo was in the 'The Matrix', he learned Kung-Fu in seconds!
Q: What was your favorite TV show when growing up?
A: "The X Files". It's still is my all-time favorite show. "The Jetsons" was my favorite cartoon when I was kid. Guess I'm obsessed with Space.
Q: What hidden talent do you have that most people at TMA don't know you have?
A: I earned the 'Sharpshooter' badge when I was Navy ROTC with both rifle and pistol. I still practice every now and then.
Q: When did you accept a dare that you later regretted?
A: I'm not a roller coaster person. So when someone dared me to get on 'Raging Bull' at Six Flags, I had the worst panic attack of my life and I was shaking when I got off. Never again.
Q: What's your favorite task at TMA?
A: I love accounting, and sincerely enjoy the job here. I also do Spanish translation, so when I help an individual with an issue, and I see that they're grateful for the information, it always puts a smile on my face knowing that I was able to help them.
Contact Daniela at: 847.825.1120 x1327