Metrology — the science of measuring — is the centerpiece of East Dundee's Made to Measure, a company Sven Bley founded in 2003 from a department at Bley Engineering in Elk Grove, Illinois.
Bley, a third-generation engineer, established Made to Measure as a metrology firm, but has expanded it to offer equipment such as new and rebuilt Coordinate Measuring Machines (CMM), along with certified metrology training programs.
"We're an outsource quality control department," Bley told TMA News Bulletin during a recent visit.
Made to Measure's marketing specialist Shannon Gregor has been with the company for six years. Her work with social media not only is drawing attention to the firm, but establishing a unique online metrology community.
"We make sure our clients' parts and pieces form, fit and function so when the parts are all assembled, they function correctly with precision," she said. "It's been fascinating to find like-minded people on the web that appreciate the type of work we do at Made to Measure."
Clients range from the automotive to medical and aerospace industries – many of which contact Made to Measure through the company's website. They were especially delighted to be contacted recently by Elon Musk's Space X for assistance with a specific project.
The wide range of designs that come into Made to Measure is part of the reason Shannon says she looks forward to coming to work each day.
"There's always something exciting to look forward to here. We get to see parts from so many companies that make things, from toilets to fry baskets. One day I came in and they were measuring watch faces," she said.
"Rolex watch faces," Bley added.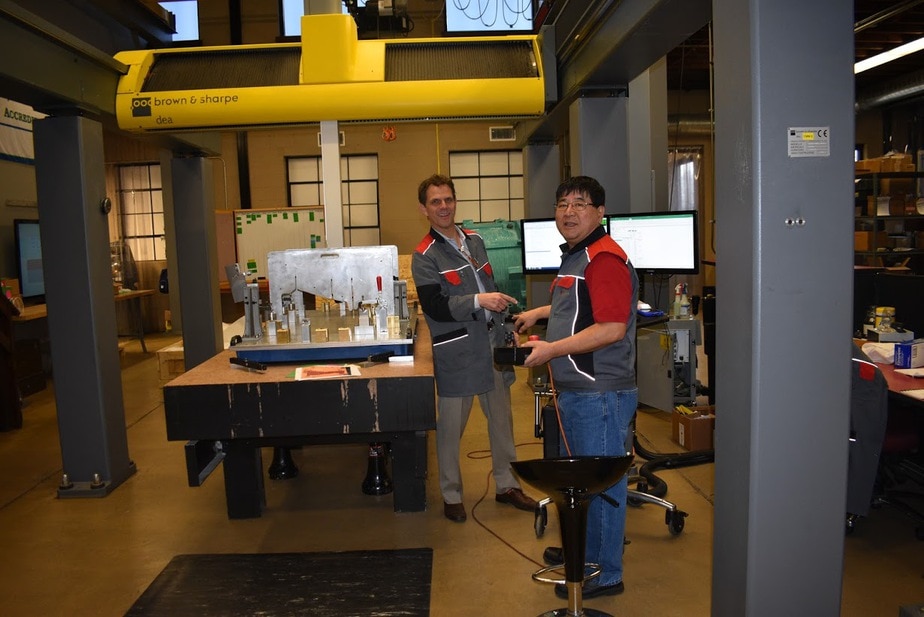 Made to Measure's blog describes how another client was being challenged with producing petcock fuel valves for off highway vehicles.
A small shut-off valve used to control the flow of liquid or gas was leaking due to improper fitting, preventing an offroad vehicle from starting properly. The clients turned to Made to Measure for help in sorting bad parts.
After working with the clients one-on-one, the Made to Measure team came up with an automated vacuum and pull test for a multitude of the non-cooperative parts, all ranging in different styles, and all with significant problems.
"Once the vacuum and pull test design was set-up and ready for the inspection, we measured 8,000 fuel valves total," the blog says. The problem was solved.
Typically, Bley says, Made to Measure begins with a customer's drawing of a part they want made.
"The drawing is the master," he said. "We measure to their specs. Then we itemize the specs and produce an inspection report. If the dimensions and tolerances are good, that project is 'out,' and then it is double-checked. This is the last stop before production."
Bley says unlike other manufacturers he's spoken with, he really doesn't have a problem finding people to join his 25-employee company. For Bley, it's more of a challenge to find candidates with the type of personalities that enjoy metrology.
The day TMA News Bulletin visited, two of those "right personality" employees Bley found and enlisted to work at his shop were busy constructing a computer program to evaluate the accuracy of submissions to TMA's annual Precision Machining Competition. Both women on the project have earned impressive educational backgrounds.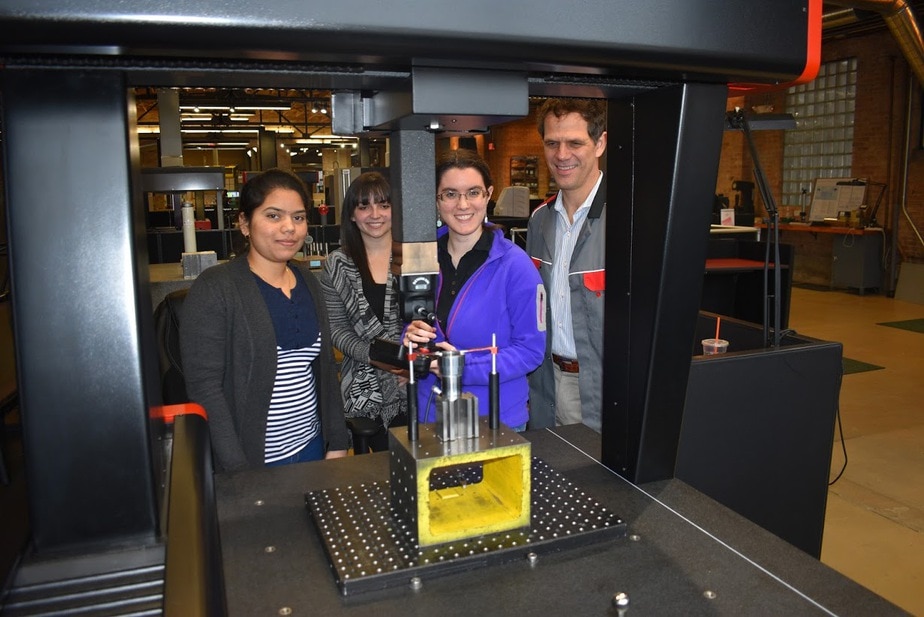 "Right now, we're creating a program to probe the TMA competition sample measurements," Julia Fallon, with a degree in physics, explained. "We certainly hope this works and helps with the huge job of judging."
"The TMA projects will be graded by how close they are to nominal dimensions," Shalini Pogula, with a master's degree in mechanical engineering, said.
Bley says his company's unique location on the Fox River in historic East Dundee represents his own and his company's value systems. Made to Measure is now located in a 96-year-old brick building on Main Street that once housed the Craft Metal Spinning Company. Bley carefully restored the facility as he prepared it for the advanced technologies his 21st Century business would demand.
"We value the past, but are moving into the future," Bley said, adopting the latest technical innovations along with a mixture of young and mature talent.
Made to Measure is located at 302 Main Street in East Dundee, Illinois and on the web at www.measure911.com.
By Fran Eaton. First featured in TMA's May 2018 News Bulletin.