It isn't easy to start a new business in Illinois these days, but that foreboding thought didn't faze Felipe Perez. The 30-year-old started a brand new milling, turning and wire EDM business in October 2016.
Before starting Art Technologies, Inc., he worked eight years at one company and almost six years at another. That's when he decided it was time to start his own business.
"I was 15 years old when I came from Mexico," Felipe said. "A neighbor gave me the opportunity to work with him and learn metalworking. With him, I learned programming and how to set up shop."
Felipe took those skills and began working fulltime. He would work all day at his job, then come home to practice on his computer three or more hours every night. He learned at a pace much faster than his mentor expected.
"I was ambitious and wanted to grow as a person, and offer opportunities to others for good careers. That's the real reason I started our business, it really wasn't so much about the money," he said.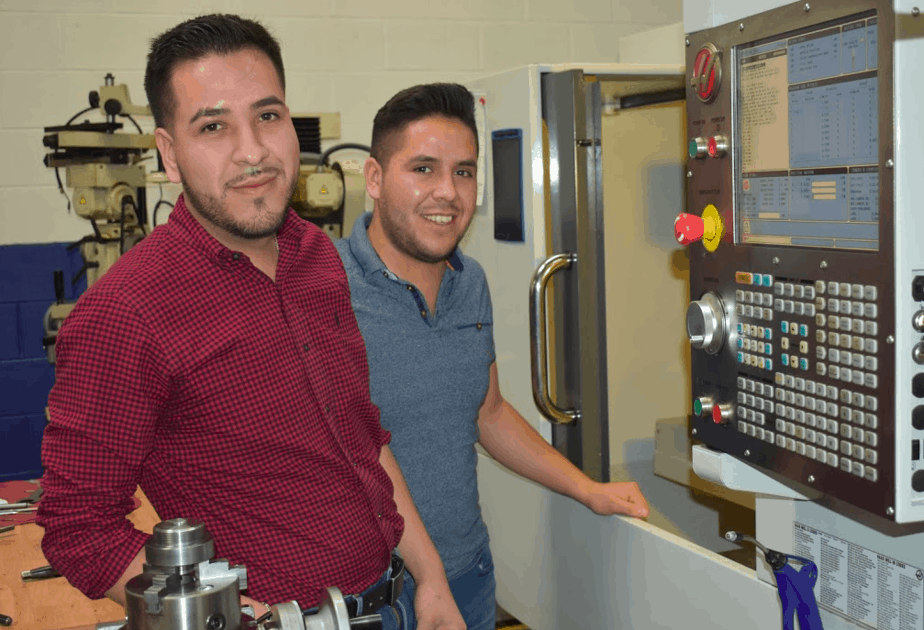 Seven months after Perez launched Art Technologies, Inc. in Bensenville, Illinois, his brother Adrian, who had studied electronics, joined him. Since then, two other Perez brothers are now working with them.
Except for two sisters – one which completing a law degree and the other studying medicine – the Perez family is helping to build the business.
Felipe points to their mother as the key inspiration for his family's commitment to hard work.
"When we were young, our mother sewed clothes, and many times we learned and helped her by sewing," Felipe said.
Art Technologies Inc. focuses on parts with .0001 precision tolerances – currently on automation parts for machines in the food, aerospace, medical and automotive industries.
They work with plastics, brass, aluminum, stainless steel, titanium and beryllium. They manufacture pre- and post-heat treat components with hardness up to 62 RC.
"Any part that can be done in our machines, we'll take the work. If it's precision, we'll take it," Felipe said. "We like challenges."
The Perez brothers are currently busy with plenty of work, they said.
During the visit with News Bulletin, two brothers were painting the inside walls in an addition which is expanding their shop floor from 800 square feet to 3000.
Like the vast majority of machine shops that have more work than people to do the work, employees are valued at Art Technologies, Inc.
"It's hard to find good employees," Felipe said. "It's hard to get people that are qualified to do the job. If they want to learn, we can get them started. We can give people opportunities to start a good career and make good money. We're happy to do that."
They're also interested in sending those that want to work and learn to TMA to advance their machining skills, he said.
In the meantime, the brothers say they intend to expand their customer base by meeting customer needs.
"We offer excellent quality, a fair price and on-time delivery," Felipe said. "We will do what we say we will do."
But to do that, the Perez Brothers are at that time in new business development when they must work hard with late hours and weekends, to keep their customers happy. That means missing family gatherings and vacations to work instead.
"That's the worst and the best part of owning your own business," Adrian said. "You have goals that might not be easy goals – and you need to prove yourself despite people telling you you're crazy. You just have to work hard and keep going."
"We like to work hard and pressure ourselves to meet those goals," Felipe agreed.
While producing customers' machine parts, the Perez Brothers say they have been challenged to suggest solutions that make parts work better, be more efficient and durable. Those tasks led the two to begin the process of patenting some of those parts they're improving.
In addition to the work with his brothers at Art Technologies, Adrian, who just got married in February, is set on starting a real estate business by the time he reaches his 30s.
"This is America; a country where dreams come true if you're willing to work hard. I don't know if we could do all this anywhere else," he said.
Art Technologies, Inc. is located at 450 Frontier Way Suite B in Bensenville, IL. They can be reached at 630.422.7331 or via email at felipe@art-tech.us.
By Fran Eaton for TMA's April 2018 News Bulletin