The largest industrial park in North America is located in Elk Grove Village, a suburb just northwest of Chicago. Over 400 manufacturers and 3600 businesses can be found within the park's six square miles on the eastern side of town.
So what makes Elk Grove Village such a draw for manufacturers? And what can other towns learn from their example?
"Location and visibility, with easy access to our customers are the key reasons we chose Elk Grove," James Hansen, Executive Vice President and COO of Japan-based Yamazen Inc. said at a recent groundbreaking of a new 137,000 square foot facility. "The Chicago area is the epicenter of our industry and being centralized on this important corridor makes it easier for us to reach new customers and establish a greater presence."
There's no question Elk Grove Village's excellent location in the nation's Midwest and its exceptional visibility are key reasons industry-leading manufacturers chose to build there.
But Elk Grove Village is also adjacent to the very busy O'Hare International Airport, at the crossroads of transcontinental rail service, and close to Interstates 90, 290, 294, 355 and IL Route 390, making it highly accessible.
For others, the area's access to public transportation and a skilled workforce made Elk Grove Village their pick.
"Manufacturers are drawn to the area because of the strong workforce availability and access to public transit," according to the 2015 Port, Airport and Global Infrastructure PAGI Report by Jones Lang LaSalle (JLL).
Thanks to the village's visionaries – past and present
The amazing insight Elk Grove Village's founding visionaries displayed as they planned the village in the mid-1900s is attributed for much of the town's success. They shrewdly took into account those all-important anticipated highway transportation routes when they designated the east side of town for industries and focused the suburb's residential zoning for the west side.
While those points are important, they were not enough to draw in major businesses and the revenue they bring with them. As the town's website boasts, "Elk Grove Village goes beyond business friendly; it's where great makers come together to make great things."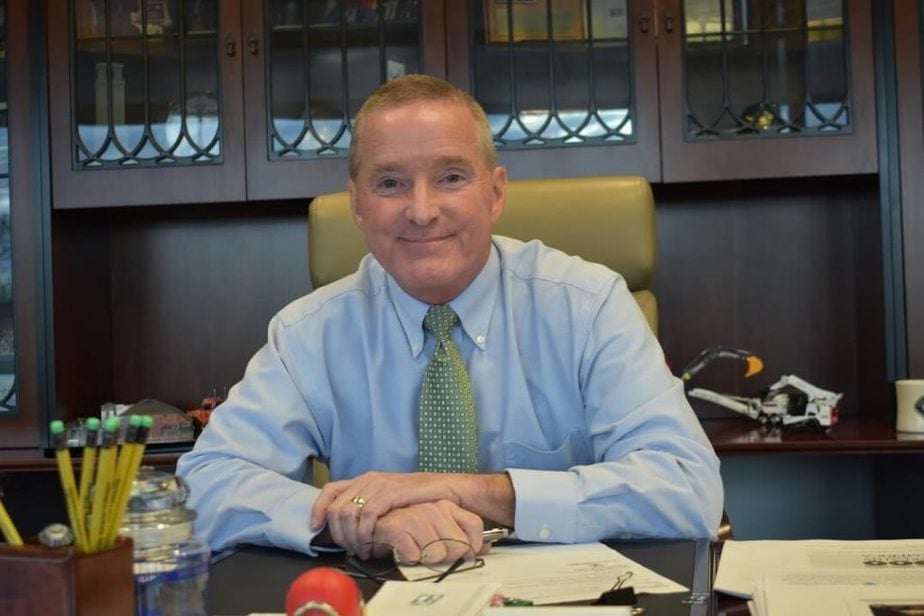 That attitude is what Mayor Craig Johnson exudes as he promotes his beloved Elk Grove Village, the town residents and their welfare. The more the town's revenues come from businesses, the less their residents have to pay out of pocket.
But Mayor Johnson is very careful to bestow upon those prized businesses the respect they deserve. Because they're so profitable, the town has avoided raising its property tax levels for the last 13 years.
"We have an old saying around here, that 'Every morning when we get up, we bow three times to the east where the business park is located,'" Mayor Johnson said in an interview with TMA News Bulletin. "85 cents of every dollar we get into the village comes from that business park. That is our golden goose. We want to keep it nice and shiny and producing those golden eggs for many years, if not decades, to come."
Manufacturing is a key source of wealth, Johnson says, and the more successful Elk Grove businesses are, the better the village is, and the better their schools, parks, public services.
Paying attention to job producers' needs is key
Johnson is very concerned about the needs of those manufacturers.
"We've worked with them in a lot of ways. We've made it easier for their trucks to maneuver on our roads. We've invested in skill programs at the local high school and encourage more technology courses at our local community college," he said. "We see them as partners – if they succeed, we succeed. If they fail, we fail."
Even Elk Grove's municipal services are organized in a way that makes it easier for manufacturers to obtain needed permits and licenses. Inquiries are assigned to a staff member who helps manufacturers through all the required processes, rather than sending them to department after department.
And the city's public works departments work hard to stay on the cutting edge, Johnson said.
"We want our businesses to be safe and have access to fire protection and public services as they need."
TMA President Steve Rauschenberger credits Mayor Johnson's 23 years of leading Elk Grove Village and his appreciation for manufacturers as key to the town's success.
"Mayor Johnson and Elk Grove Village succeed primarily because they start with the understanding that manufacturing and manufacturing jobs are good for their community," Rauschenberger said. "They aren't in search of the next shopping center or Olive Garden restaurant, they understand that small, innovative, and successful manufacturers lead to a prosperous community and good jobs for their residents."
Elk Grove Village goes even further in their outreach. Every year, they feature an annual expo to pull in manufacturers from beyond their borders and provide opportunity for those already in the area to meet each other and coordinate services they can offer.
"Our 2019 Manufacturing Expo had 1100 attendees, surpassing our goal for the year," he said.
The city's website has a whole section called "MakersWanted.org" to provide details about the area, demographics and tax incentives for those considering a move.
But with a 98% capacity, it is getting more and more difficult to re-locate in Elk Grove Village. The village recently invested in a remaining section of farmland where an advanced technology industrial park is being built – with help from Comcast for 5G internet and ComEd for futuristic energy sources.
And who wouldn't want that kind of success?
Being so crowded is a problem more communities in the region would love to have – especially in Illinois, a once-thriving state that continues to lose more population and potential job makers every year.
"The understanding Mayor Johnson and Elk Grove Village have about manufacturing allows them to view their public policy through the lens of whether what they implement will strengthen job producers, or hurt them," Rauschenberger said. "If more local governments looked hard at what makes strong. healthy communities, I believe they would find small business and manufacturing at the root of that success."
Mayor Johnson agrees that opening the way for manufacturers and other businesses to locate in Elk Grove Village is something other communities should consider doing – but if they don't, it's okay with him.
"It just leaves more opportunity for us," he said, chuckling.
"We've had many people say if every community in Illinois was like Elk Grove, what a state we'd have," Johnson said. "We're unique, compared to what's going on in the state of Illinois. We're willing to think ahead and we're prepared for the future. Other of our neighbors didn't progress, and didn't change with the times. We learned from them and are determined to stay on the cutting edge."
And that says it all – Elk Grove Village's example is one more communities should wisely consider, especially as manufacturing continues to return.
"If more local governments looked hard at what makes strong, healthy communities, I believe they would find small business and manufacturing at the root of that success," Rauschenberger said.
And that is something that could happen nearly anywhere.
From TMA's January/February 2020 News Bulletin – by Fran Eaton.