Chicago's West Side neighborhoods are not only devastated with crime, the aftermath of illegal activity has taken a severe toll on the community's productivity.
In Chicago Urban League research director Paul Street's white paper on "Race, Prison and Poverty," Congressman Danny Davis claims 70 percent of men between the ages of 18 and 45 living in impoverished North Lawndale are ex-offenders.
That's seven of every ten males in their most productive years burdened with a criminal history.
Statistics show that a sobering 47 percent of those that have served time under the Illinois Department of Correction's supervision return to incarceration. Having a felony on one's resume creates a nearly insurmountable obstacle to finding a good job.
But Chicago's Safer Foundation, a not-for-profit organization, has been providing employment, educational, and supportive services for individuals with criminal records for 44 years. It has now joined up with TMA to provide its clients one way out of the community's downward spiral.
The recidivism rate for Safer Foundation clients able to find employment drops dramatically from 47 to 24.3 percent. If they're able to keep that job for 30 days, the rate drops again to 17.5 percent.
TMA is collaborating with Safer Foundation to provide advanced manufacturing training for qualified residents living at Safer's two residential facilities located in the North Lawndale community on Chicago's West Side.
At its Schaumburg headquarters, TMA offers two class levels for the Safer students – a Level 1 Introduction to Advanced Manufacturing and a Level 2 class in which the students are pursuing NIMS credentials for programming.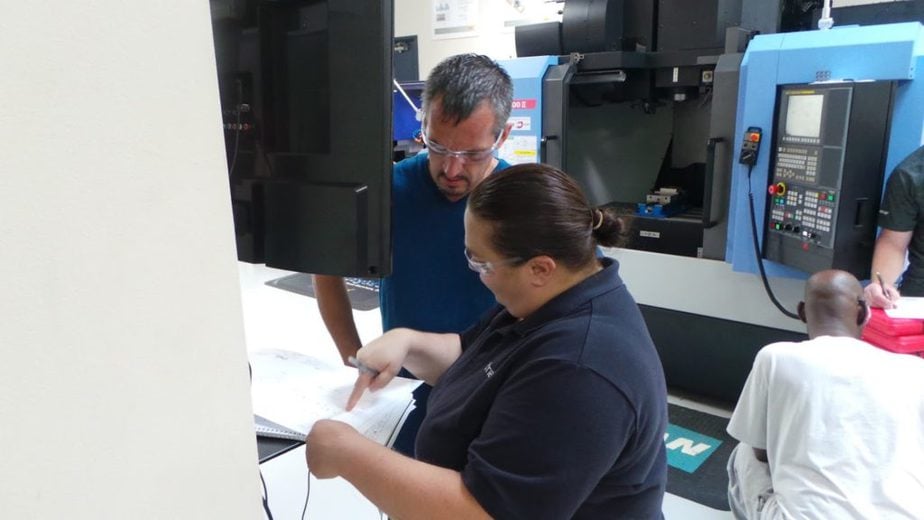 This summer, Anthony Connors is instructing with TMA's Level 2 class and April Senase is teaching TMA's Level 1 class.
Level 2 student Jason Codding credits TMA's collaboration with Safer Foundation with changing his life. The 44-year-old landed a job with EPP in Elk Grove Village May 9th of this year.
"If it wasn't for Safer, I probably would have gone back to my old ways and got locked up again," he told News Bulletin. TMA training prepared Codding well for the job EPP hired him to do, he said. He's passed the 30-day mark at EPP and according to recidivism stats, he's well on his way to a successful career.
He's likely to beat the odds, he says.
"If it wasn't for me getting involved in Safer, I wouldn't be making the money I'm making – I'd still be scrounging. Now I get good pay, awesome benefits, a 401(k). I've got everything, I'm set for life."
Codding already has a place to live when he leaves the Safer housing – hopefully in October, allowing for good behavior time he's accrued.
He plans to continue his education and enroll in TMA's apprenticeship program once he completes Level 2 instruction.
Stories like Jason Codding's warm the heart and inspire TMA to continue working to fill its members' staffing needs with well-trained candidates while at the same time playing a major role in the lives of those who can benefit from a hand-up.
"At TMA we are proud to partner with organizations like Safer Foundation and Bethel New Life," President Steve Rauschenberger said. "Safer Foundation's efforts to fund TMA industry standard training are making a difference in the lives of people and communities. TMA and TMA's Education and Training Department are happy to play a part in building better futures for trainees and a stronger workforce for American Manufacturing."
For more about Safer Foundation, visit their website at SaferFoundation.org.
First published in TMA's August 2016 News Bulletin. By Fran Eaton.