TMA LIVE! Annual Dinner 2022 "leaves 'em laughin'"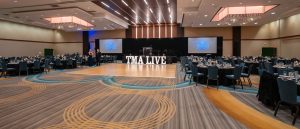 ROSEMONT – After delaying for two years, the Technology & Manufacturing Association held its long-awaited annual dinner October 7, 2022 at the Hyatt Regency in Rosemont, IL. The theme, TMA LIVE, spotlighted humor, comedy and produced lots of smiles. The hundreds of TMA members and their guests that attended agreed it was a fun night.
Following a long-standing tradition, several TMA community members were recognized for their exemplary efforts in the manufacturing industry: 
2022 Winzeler Award 
The 2022 Winzeler Award went to Steve Kase, of ASK Power. This award is presented to individuals that have provided outstanding service to the industry or Association. Funded by Winzeler Gear, the award combined in 1977 with the Max P. Heinze Award for Outstanding Service to the Chicago Area Precision Metalworking Industry.
2022 Rose Mottl Award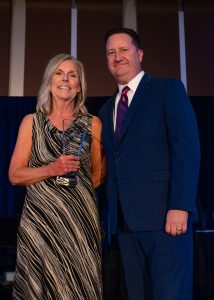 The 2022 Rose Mottl Award went to Deb Summers of Lakeview Precision Machining. This award recognizes women that have worked to advance the manufacturing industry and whose efforts inspire current and future generations of women in manufacturing.
2022 Next Generation Award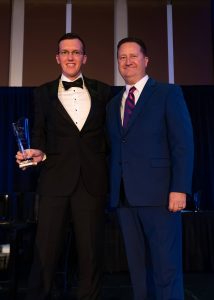 The 2022 Next Generation Award was given to Grant Heckelsmiller of Technymon Technology USA. The Next Generation Award recognizes young entrepreneurs that have distinguished themselves as part of the next generation of manufacturers and future leaders of the industry.


2022 Employee of the Year Award
The 2022 TMA Member Employee of the Year Award was presented to Amy Burchill of United Scrap Metal. The Member Employee of the Year Award recognizes an outstanding professional that has gone above and beyond to make 2022 a great year for their company.

After dinner and the award ceremony, TMA Annual Dinner attendees enjoyed laughing with the night's special emcees hosted by FactoryFix, Ben Morrison and Greg Wilson. 
During the evening's program, several longtime TMA members were recognized:  
for 75 Years as members of TMA: Inventive Manufacturing, TRO Manufacturing Co., Inc. and Ward Manufacturing Co., Inc.

for 50 Years with TMA: E.B. Bronson & Company, Inc., Kreis Tool & Mfg. Co., Inc. and Tryson Metal Stampings & Mfg.

for 25 Years with TMA: CJG Partners, Dicke Safety Products, DuPage Precision Products, KRD, Ltd., Micro Surface Corporation, NyproMold Chicago, Otto Engineering, Inc., Porte Brown, The Sureway Group, Three R Plastics, Inc., Twinplex Manufacturing Co., and United Scrap Metal, Inc.
TMA's 2022 Partners were honored: 
TMA 2022 Gold Partners are: Chatfield Global, Fifth Third Bank and United Scrap Metal

TMA 2022 Silver Partners are: First American Bank, Merchants & Manufacturers Bank, USM

TMA 2022 Bronze Partners are: ConverSight, Cushman & Wakefield, FactoryFix, Huntington Bank, KRD, Ltd. and Prescient Solutions
And finally, the TMA LIVE 2022 dinner sponsors included LogoPress/Accurate Die Design Software, Keller-Heartt Oil, Technymon Technology USA, Bronswick Benjamin, GG4Energy, Gatto Industrial Platers, Inc. and ShopWare.