Ray Wiltgen: Adjustable and Secure as the Locknuts He Makes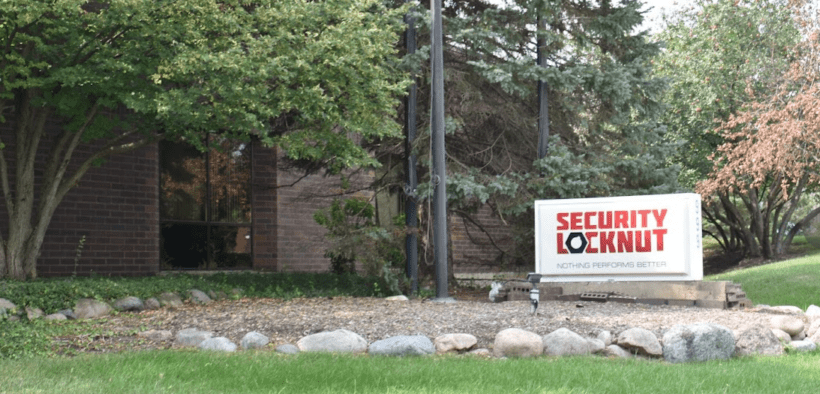 VERNON HILLS, IL – International supply chain woes continue to head the list of things on Americans' minds during the closing of 2021. Images of hundreds of cargo ships waiting to be unloaded headline nightly newscasts.
But for Ray Wiltgen and Security Lock LLC in Vernon Hills, Illinois, the supply chain focus is on what comes after those containers are loaded onto railcars. Wiltgen's company makes a product that few outside the railroad industry think about, but which are infinitely crucial to the international supply chain: the locknuts that hold together America's rail lines.
"The less they have problems on those rails, the less time that they're down," he told TMA News. "Less maintenance, less work, and everyone is better off. Two pieces of track fall apart and the drama begins."
But that's not all his company's products affect.
"We touch so many heavy Industries. Maybe 10 percent of our business is in longwall mining. People don't like coal, but for at least another 10 or 20 years we're going to be burning coal, they want to be able to get the purest coal out that they can the fastest way they can," Wiltgen said. "The fastest way to get to that coal is longwall mining and they need nuts to hold together the conveyor chains. When those chains pull material out fast enough without breaking down, it can be worth $200,000 an hour."
But it's not just coal mines that demand secure, joined rails. Gold mines do as well, he said. Precious metals would be much more costly if miners weren't able to efficiently transport their treasures out of the mines.
"If we had a lousy product, it would be more expensive to buy precious metals. And it's not just the gold on your fingers or around your neck. All our computer chips require those precious metals," he said.
Security Locknut's products range in sizes from three-eighths of an inch to three inches.
The primary components make Security Locknuts unique, and the design is actually mechanically quite simple. They are reusable and they do not damage the bolt's threads.
"All that matters," Wiltgen said. "Security Locknuts are not inexpensive. If a nyloc works, then our customers should use those. If the application is critical and the cost of a failure is more expensive than the nut, then they should use ours. The math is pretty simple."
That makes Security Locknut's all-steel, fully reusable one- piece assembly with a spring steel lock ring and steel nut body ideal and cost-effective. Videos with hundred-car trains going over railroad crossings illustrate well why Security Locknut's products are so important, Wiltgen said.
"The crossing is all bolted together and you'll see the rail pumping up and down, up and down, up and down. You see the joint moving, and what happens then? It's almost like sanding. You're losing tension in that bolted rail joint. And at some point that bolted joint becomes loose.
"Now it's rattling. Most locknuts, once that happens, just fall off, then you have a catastrophic failure. Our nut will still be there. We can't stop all joints from coming loose, but we can stop that nut from falling off the rest of the way, preventing the bolt from coming out and then something very ugly happening."
Security Locknut's original intellectual property design came out of a think tank during World War I. The U.S. Government hired groups of engineers to design needed products. They would patent it, and sell the patent to the public. The Security Locknut design wasn't actually used until the Korean War, when there was a need to keep tracks on American tanks moving.
So how did Ray Wiltgen get involved with manufacturing and, specifically, Security Locknut?
"As long as I can remember, I was always fiddling with things. My grandfather was a garbage collector in Skokie. He would bring things home like a toaster, an old radio or a watch. I would sit at our little work bench in the basement and take stuff apart, put it back together," he reminisced.
Wiltgen started his metal working skills early in high school, working daily in his great uncle's mold building shop. After three years, Wiltgen elected to pursue an engineering degree at Texas A&M. Wiltgen returned to the precision metal working industry after college. After gaining experience from multiple shops, he partnered up to purchase his uncle's shop. Wiltgen had begun studying at night for an MBA that stirred an interest in the private equity market.
While writing his degree thesis, Wiltgen interviewed engineer Dave May, who was a year younger than Wiltgen. Impressed by what he heard from May, the two became good friends and eventually, business partners in 1998.
The partners' business grew, even through the devastating September 11, 2001 attack's after effects.
But the damage was done. U.S. manufacturers began moving overseas. Wiltgen and May sold their company and Wiltgen bought an aviation company. Finding the business was not as lucrative as he hoped it would be, Wiltgen sold the company, returned to manufacturing and joined a private equity firm.
When on vacation in 2007, Wiltgen learned that a good friend of his, the 48-year-old owner of Security Locknut, was killed in a tragic boating accident. TMA's 2005 Board Chairman Hal W. Pulfer's widow Colette would need help to run her late husband's company. Three TMA members stepped forward to assist and counsel Mrs. Pulfer. Wiltgen was one of them.
Seeing the company's needs, Wiltgen reached out to his old friend Dave May and Mrs. Pulfer hired him on as general manager. In 2011, May and Wiltgen offered, and then bought, Security Locknut, LLC.
"That's 10 years ago. It's a long time to be in one place for me," Wiltgen said. "I'm still here because I had a reset recently. In late 2018, I found out I had a tumor in my head. Last year, I had the tumor taken out at Mayo Clinic." His experience at Mayo caused him to reassess how he was handling Security Locknut.
"I realized we were missing some opportunities, and it was time that we kicked things into a higher gear," Wiltgen said. They changed key personnel, and are now doing a complete company re-set. Skinnying up internal staff, modernizing the process, and changing operations are all part of the re-do.
In five years, Wiltgen said he would like revenues to be up 30 percent with more leadership in the team that would allow him to enjoy the life he's been given a second chance to enjoy, he said.
"It's all about staying connected – especially with TMA – for our companies," Wiltgen said. "Several opportunities I've had through the years related directly to the TMA network. It's something that TMA should talk about more."
There are two things Wiltgen says he finds especially rewarding: "I love to make things. Seeing a finished project is rewarding. And secondly, I really like having an impact on people. I love seeing how people that work here are developing."
He's definitely enjoying his second chance at life with his wife and his only daughter, who recently married.
The Security Locknut website says their product "holds tight in extreme conditions, is infinitely reusable and adjustable, and is proven for decades in demanding applications…"
Sounds like a fair description of their CEO, doesn't it?
Security Locknut, LLC is located at 999 Forest Edge Drive, Vernon Hills, IL 60061, (847) 970-4050
First published in TMA's Nov/Dec 2021 News Bulletin. By Fran Eaton. Used with permission.