TMA member Chicago Welding & Fabrication doubles space at new location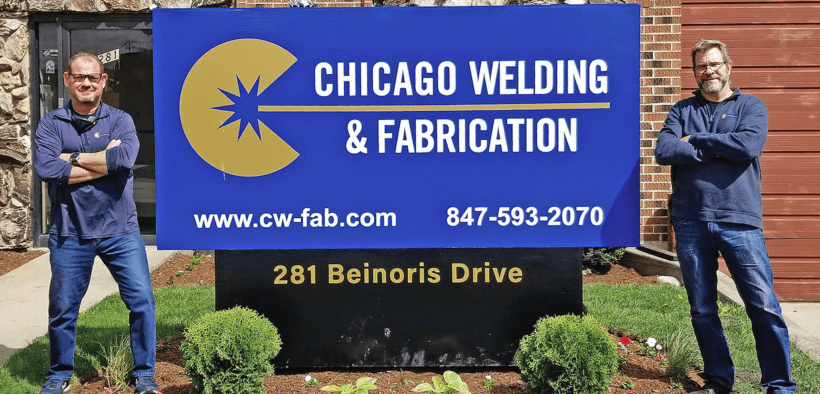 Wood Dale, IL – Chicago Welding & Fabrication has moved to a new facility in Wood Dale, Illinois that provides double the space of its former location, giving the full-service welding and metal fabrication company much-needed room to grow and to add new equipment, including additional robotic welding systems.
"Our previous facility was becoming crowded as work demand increased," says the company's CEO/President Walt Kopp. "That was threatening to restrict our ability to expand services and handle our current customer workload in a timely way. The new facility gives us the space and flexibility that lets us better manage larger projects and higher volumes while continuing to add new services for our customers and turn around projects quickly while performing quality work."
The company is known for its ability to make critical tool and die welded repairs with their large capacity laser welding machines and to fabricate new metal parts efficiently. It prides itself on its ability to handle both large and small volume projects, often turning them around in one to three days (many times the same day) as opposed to the longer times required by less flexible operations.
"The adaptability that lets us do that includes adding evening and weekend shifts as needed to complete projects in short turnaround times," says Kopp. "Furthermore, with the expanded operational footprint, we decided to invest in robotic welding equipment which will help us with new automotive parts production work we secured. This is a new welding service niche we want to aggressively expand in 2021."
Chicago Welding & Fabrication's capabilities range from laser welding, robotic welding, TIG welding and micro welding, metal fabrication, and machining to skills such as silver soldering and brazing that remain in high demand but are less readily available today. The company's welders are experienced in working with a wide range of metals and are certified by AWS.
The company, which is also ISO 9001:2015 certified, services customers across the United States, receiving work and delivering finished work via UPS and Federal Express and servicing local Chicago area customers via its own truck.
Chicago Welding & Fabrication is located in Wood Dale, Illinois, just West of Chicago's O'Hare International Airport. For more information, visit www.cw-fab.com or call 847-593-2070.
The company joined the Technology & Manufacturing Association in September 1987.