Government regs, taxes restrain COVID-19 recovery, Illinois manufacturers say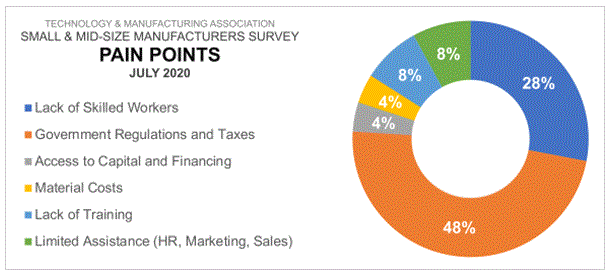 SCHAUMBURG, IL – The July results of the monthly Technology & Manufacturing Association (TMA) Midwest Manufacturers' Outlook Survey are in, and they paint a clear picture of an industry trying to recover but facing serious obstacles due to government regulation and taxation.

After reaching a two-year high in February 2020, manufacturers' overall outlook cratered to a mere 20% in April, due to COVID-19 and the resulting government-mandated shutdowns.

After fighting to re-open and re-rebuild, manufacturers' outlook rose to 44% in July 2020. However, prospects remain gloomy. Only 52% report being optimistic about the national economy over the next twelve months, and an appalling 16% report optimism about the Illinois economy.

The reason? Illinois manufacturers blame government regulations and taxes. In over two and a half years of measuring the major "pain points" for manufacturers throughout Illinois, this past month the pain of "government regulations and taxes" reached its highest point ever at 48%, up from just 20% in January and 0% last October.

"Small and mid-size manufacturers are ready, and need, the economy to return to full capacity," said Dennis LaComb, TMA Vice President of Government Relations. "They are trying to re-build and plan for the future following the government-mandated economic shutdown.

"Unfortunately, the ever-changing rules, on top of already established regulations, red-tape, and confiscatory taxes, makes it extremely difficult to do so. The unprecedented government control is hindering small and mid-size manufacturers from putting people back to work and ensuring that families can earn the money they need to pay their bills and keep loved ones safe," he said.

"The good news is that manufacturers in Illinois continue to provide the world with essential products to keep the nations' supply chains working during the COVID-19 pandemic," said TMA President, Steve Rauschenberger. "Not unsurprisingly the opaqueness of the state's response to the virus has been a major problem for manufacturers.

"Not to mention that Governor Pritzker has continued to threaten the rollback of the Restore Illinois reopening plan, which would be devastating to manufacturers who just now are starting to get back on their feet. We cannot move backwards—our leaders need to realize that we can keep our residents and workers safe without shutting down the engine of our economy."

Started in January of 2018, the TMA Midwest Outlook Report is a monthly survey taken to track the opinions of small and mid-size manufacturers.