Manufacturers plan to spend $26 B this year on employee "upskilling"
DC – US manufacturers' biggest complaint is the lack of skilled workers available.
That's what Technology & Manufacturing Association members have been saying for years – and throughout 2018 and 19, the concern dipped for a while, before skyrocketing again, TMa's "pain points" surveys indicated: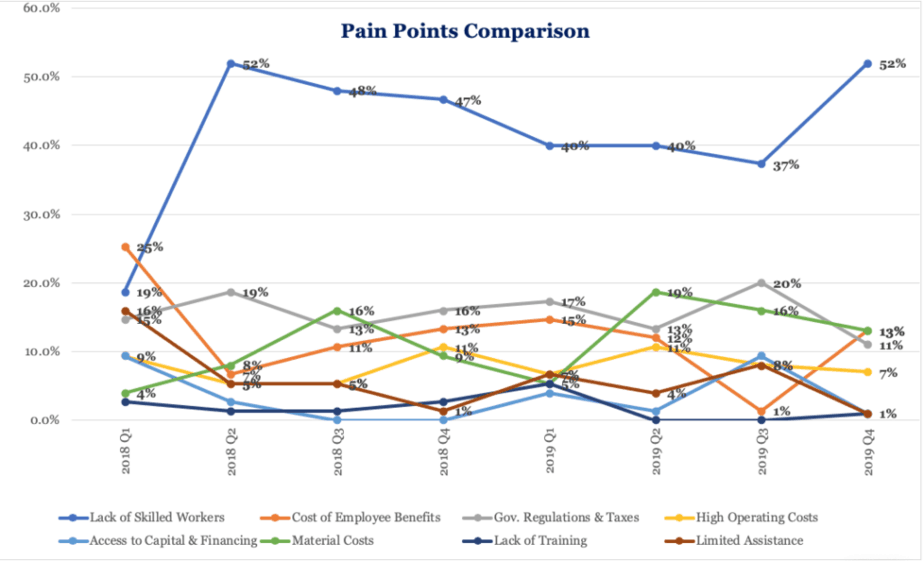 Manufacturers are set to spend $26.2 billion on internal and external training initiatives for new and existing employees in 2020 to combat the shortage of available workers, according to the Manufacturing Institute.
Securing the pipeline of future talent is a key to success for manufacturers, a January 17, 2019 CNBC story says.
Data from Deloitte and the Manufacturing Institute found that some 4.6 million workers will be needed in the sector by 2028, but that 2.4 million of those jobs could go unfilled if steps aren't taken to ensure proper training. Lee calls recruitment a "full-court press." The goal of the organization is to close the skills gap by 25% by 2025.
"We just need more people — period," Lee said. "We have about 480,000 open jobs, and have been hovering around 500,000 openings in the past year after retirements and economic growth. We need to attract transitioning service members and veterans into the sector, and we need to bring the next generation of the workforce into the sector."
TMA offers an array of training for technology and manufacturing careers.
Check out their course offerings at www.TMAIllinois.org