December PMI falls slightly; overall, 2018 levels high
It's a classic case of viewing the world as a "glass half full or half empty" about January 2's report on December 2018's Purchasing Manager's Index (PMI).
While the vast majority of economists say anything over a 50 rating means manufacturing is expanding, December's PMI was lowered than November's – just a bit.
November's PMI was 55.3 and December's was 53.8. For one news source, the dip spells trouble:
Results from financial data firm IHS Markit showed the U.S. manufacturing PMI (Purchasing Managers Index) was 53.8 in December, falling nearly 2 points from 55.3 in November. This represents a 15-month low for the index, while job creation also slowed to an 18-month low, CNBC reports.
But the issues aren't as doom and gloom from everyone's point of view.
As per the survey, the upturn in manufacturing jobs was the slowest in four months, while backlogs were accumulated to the quickest extent since May.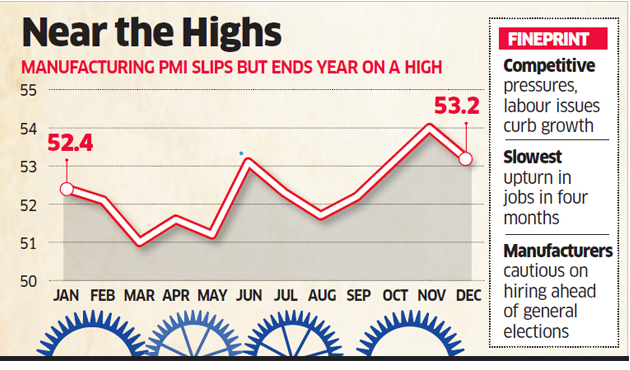 And that may be the real reason for job growth slowing – not that the manufacturing revival is waning in the US. It's simply hard to find skills-trained staffing and grab needed materials to complete the jobs before them.
"Some of the weakness is due to capacity constraints, with producers again reporting widespread difficulties in finding suitable staff and sourcing sufficient quantities of inputs," another IHS Markit expert said.
Read more at:
//economictimes.indiatimes.com/articleshow/67345218.cms?utm_source=contentofinterest&utm_medium=text&utm_campaign=cppst