TMA Education Foundation grants $50k to update Thornton Township High School tech lab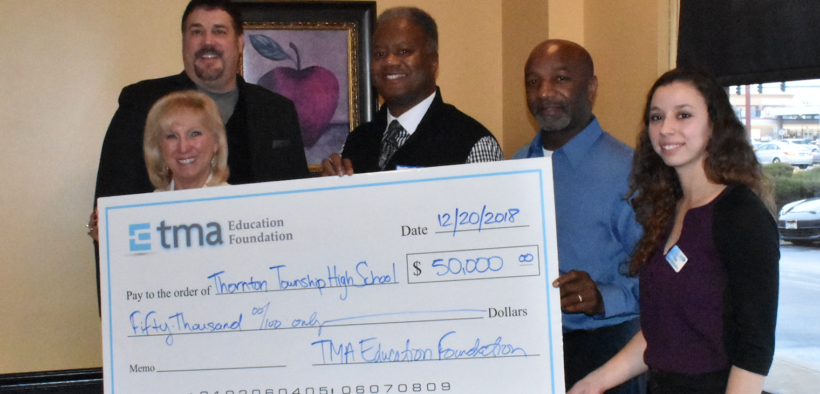 TINLEY PARK – At the Technology & Manufacturing Association's monthly breakfast for south suburban members, Thornton Township High School received a $50,000 grant from TMA's Education Foundation.
"TMA's Education Foundation is eager to help schools that are updating or expanding their curriculum to offer training for the next generation of manufacturers," TMA Coordinator of Education & Training Leigh Coglianese said when presenting the check. "This donation to Thornton Township will be key in encouraging more students to consider careers in technology and manufacturing."
Thornton Township Superintendent John Arrington shared that the project of returning the curriculum to offer classes in mathematics and skills that will prepare their students for skilled careers will involve the redo of a portion of the building. "We were able to gather the $280,000 needed to do the project through private and public grants – and this donation from TMA is unusually large and greatly appreciated," he said.
Thornton Township reaches students in Chicago's southern suburbs where many are not aware of solid careers that do not require a four-year college degree. "About 15 years ago, the curriculum dropped almost all shop classes," Arrington said. "We are coming full circle now, seeing that there is an emphasis on returning manufacturing to the United States – and the US Department of Education is helping this turnaround."
South suburban TMA members and affiliates gather once a month at the Egg & I in Tinley Park and welcome interested parties. For more information, contact SSempowicz@tmaillinois.org .
For more information about the Education Foundation and how to apply for grants, visit TMAIllinois.org