From Beer to Robots: Panek Precision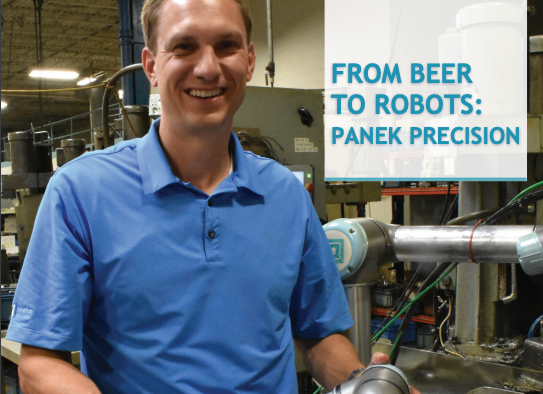 When Chester Panek first started his drill press shop, his 30-feet wide storefront was located in a busy Chicago neighborhood, crammed in between a row of taverns.
"I was just a kid then, and I remember the guys that worked for my dad stopping in at bar #1 before work started, bar #2 during their break, and bar #3 for lunch," Gregg Panek chuckled. "It couldn't be like that today, but they sure were happy employees."
"Our family business story really could be titled 'From a Shot of Beer to 60 Robots,'" Gregg's son Brian said.
The second and third generation Paneks cherish a bill of sale they found a couple of years ago that shows the late Chester Panek started Panek Precision in 1945 with a $5000 investment. From a narrow shop with 12 employees in Chicago to 120,000 square feet and 200 employees in Northbrook, Illinois 73 years later, the Paneks' history is an all-American success tale.
"Though my dad didn't think there would be much future in automotive parts, I pushed in that direction," Gregg Panek said with a smile. Panek Precision is now machining OEM and after-market shock absorber components for automakers like GM, Ford, Chrysler, Mercedes and Tesla. They also make automotive fuel and exhaust systems.
"Now eighty percent of what we do here is automotive. There's not a car on the road that doesn't have our parts," Gregg said.
The company's machine shop capabilities include CNC machining, multi-spindle screw machining, precision tube cutting, metal forming, 4-slide stamping and centerless grinding.
Son Brian says he knew early on he would be involved in the family business. But instead of launching his career at Panek Precision immediately after obtaining a degree in marketing and operation, Brian followed one of Gregg's customer's advice and worked five years in another field altogether: advertising.
"The knowledge I gained in the corporate world helped me clearly see what needed to be done at Panek Precision, and the experience helped me weather the storm when we put those changes into effect," Brian said.
Like other manufacturers, the Paneks say it's been a challenge to find skilled workers needed to expand their business. But they've found partial solutions in the new artificial intelligence trend, or what is called the "Fourth Industrial Revolution."
Brian says using robots at Panek Precision expanded work production while growing the employee team at the same time. They started five years ago with one robot purchased at a trade show for $35,000. That investment worked out so well, they anticipate utilizing 60 robots on the shop floor within the next few months.
Robotics, Brian says, is something that is bringing good changes to manufacturing and will improve the shop floor as technology advances. Robots are nothing to fear, he says.
"Robots create jobs," Brian said. "Our employment increased 30 percent with robots doing the jobs of three to four people. With robots, our employees' work is safer and better quality while they are more interactive. At the same time, the employees learn new skills," he said. "If we didn't have robots, we'd have 50 less people working here because we would have less work."
Panek Precision's decision to incorporate robotics into their small business drew attention of publications like the Wall Street Journal and Inc. over the last few years.
"The real advantage to these robots, however, is their ability to perform a variety of tasks, as opposed to the large, industrial robots used by assembly lines to do the same thing repeatedly," the Journal said. "Collaborative robots can also roam free on factory floors, rather than being bolted to a single location, and have safety sensors that prevent them from running into humans."
The Paneks say they are eager to see their fellow TMA members invest more in robotics. "Again, robots create jobs, and we want to see TMA members succeed," Brian said.
Both Paneks have served as TMA Board chairmen – Gregg in 1992 and Brian in 2014.
During Brian's acceptance speech, he paid tribute to TMA Board predecessors, expressing his commitment to the industry, the association and his family.
"It is truly an honor to serve as the new Chairman of TMA, following in the footsteps of so many visionary leaders who have gone before me, including my father Gregg," Panek said. "I am committed to maintaining TMA's core mission and values while building on our recent successes and continuing our upward trajectory as a leader in the manufacturing industry."
Four years later, the Paneks continue to lead by example in the industry and association.
Panek Precision is located in Northbrook, Illinois and on the web at www.panekprecision.com
By Fran Eaton. First published in the October 2018 TMA News Bulletin.