Immigration's Impact on Manufacturing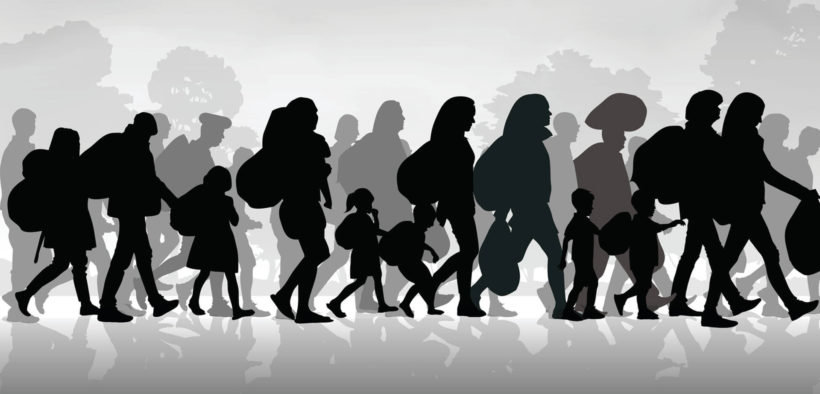 With the American economy and manufacturing red hot, the issue on the front of most employers' minds these days is not "how do I find work" but rather "how do I find people" to do the work and meet the increasing demands and deadlines of their customers.
In July and August 2018, the U.S. unemployment rate dipped to an 18-year low of 3.9 percent. Currently, there are more jobs available than there are people to fill those vacancies. The latest Bureau of Labor Statistics report showed industry workweeks holding steady at 41.0 hours, with an average of 3.5 overtime hours.
Gone – for now – are worries about keeping high-skilled employees busy. Today manufacturers lose sleep over how they'll fill current and future orders with a widening skills gap and labor shortage.
Recruiting Outside U.S. Borders
When a nation's available labor force is exhausted, reaching beyond its borders becomes a necessity rather than an option. According to the U.S. Chamber of Commerce, this heightened demand for labor means the United States must revamp its immigration policy by:
Securing the borders,
Responding to the economy's labor needs,
Providing a simple, reliable employee verification system and
Addressing the issues of the 11 million undocumented immigrants already living and working in the US.
Steve Cortes, Senior CNN Political Commentator and Trump adviser, says he understands the Chamber's views on immigration and is aware of the pressure on manufacturers to fill shop floor vacancies during the economic boom. However, he argues that the U.S. Chamber of Commerce represents global corporations that have prospered from the continual flow of "cheap labor" into the U.S., which has undermined America's once-treasured blue collar workers and middle class.
"The Chamber represents multinationals' sophistication and power to carve out advantages in trade deals that worked well for those companies, but not for workers and the country as a whole," Cortes told TMA News Bulletin. "The stock market and Wall Street did well under [President] Obama – Main Street did not do as well.
"Corporate America was good at garnering a substantial share of the slow growth in the last administration, but small- and medium-sized businesses were left behind," Cortes said.
Federal E-Verify
Major corporations that have benefited from the current immigration policy rely on their supply chain made up of small and medium-sized manufacturers. While bigger companies have the resources to fund hefty legal and human resource departments, smaller supply chain sources are often left to deal with obscure and tricky immigration regulations.
Atlas Tool & Die Works' Chief Alignment Officer Zach Mottl is fully aware of the challenges immigration issues raise in the supply chain. In contract with the federal government, the Illinois-based company is required to use the federal E-Verify system.
"Atlas is in compliance with all laws and started using E-verify as soon as it became available," Mottl said. "We think it's just good business and also ensures compliance with our federal contracts, specifically, ITAR [International Traffic in Arms Regulations] and Cybersecurity Compliance procedures."
Those federal regulations now apply to all tiers of defense supply chain – including plating shops, machine shops, and screw houses – that receive controlled, nonclassified information such as parts blueprints.
"We use E-Verify, as well as any other reasonable and legal measures, as part of our larger effort to ensure we have a safe and secure workplace at Atlas," Mottl said. E-Verify is easy, accurate and free, he said, so he doesn't understand why anyone would not use it.
State Immigration Statutes
Manufacturers who don't have federal contracts face other, state-based statutes and obstacles when hiring immigrants. For example, Illinois' statutes are almost the opposite of federal contract requirements.
The state of Illinois discourages employers from using E-Verify. Before the E-Verify system was upgraded and improved, the Illinois legislature passed a law prohibiting private employers from using the system. The courts struck down the statute. In response, Illinois put into effect an amended version. The law now requires employers using the system to affirm they received E-Verify training materials and completed mandatory tutorials. However, Illinois employers can only use E-Verify after they've hired an employee. It is prohibited from using the system for applicant pre-screening.
Illinois' Right to Privacy in the Workplace Act puts employers "between a rock and a hard place," WorkplaceReport.com says. "On the one hand, they can face serious penalties for hiring an unauthorized worker. On the other, failing to comply with the letter of the law in their use of E-Verify can also subject them to serious penalties."
Until the U.S. Congress provides clear and concise immigration policy regulations, experts recommend company owners – especially in complicated states like Illinois – contact legal counsel about using E-Verify.
Immigration Policy & Implementation
Steve Cortes, the son of an immigrant himself, told TMA News Bulletin that, "The long-term control of American immigration will make America a safer, more prosperous place even though there are near-term dislocations. I do understand it to be painful for those businesses having trouble finding workers. If there is truly a need and we're unable to find American citizens willing and capable of taking these jobs, then let's have a conversation of what type of skills we need."
"Let's make immigration merit-based, rather than the present immigration policy we have, which is almost completely family-based," said Cortes. Allowing those from outside the United States paths to citizenship based on their knowledge and skills rather than their family trees should be a priority, Cortes argues.
"The government provides some sort of assistance or means-tested benefits to almost fifty percent of immigrants now in the U.S.," he said. "That is not the history of immigration – not what our parents, grandparents and great-grandparents saw, not what they lived when they emigrated to this country."
The U.S. Chamber of Commerce and those like Steve Cortes hope to find compromise that will lead to longterm safety and prosperity for America and its citizens.
What to do with the 11 million undocumented immigrants currently in the U.S.; how to clarify their appropriate access to jobs; how to determine their qualifications to enter the country and protect U.S. security are topics that will need to be addressed.
The urgency to iron out immigration policy will continue to grow as long as pressure builds on manufacturers to find employees – wherever that may be.
Used by permission. First published in TMA's September 2018 News Bulletin. By Fran Eaton.