Cortes: USMCA scores a better deal for American workers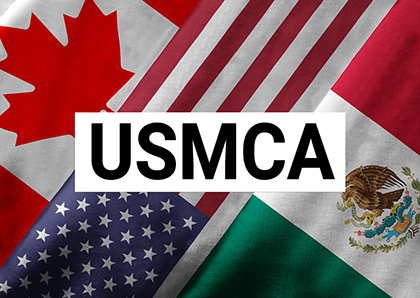 By Steve Cortes for TMA News – 
Before you walk the walk, sometimes it's best to talk the talk.
For years, Donald Trump railed against the failed politicians whose bad trade deals stole jobs from American workers. Now the President is parlaying that tough talk into real action.
It's exactly what was needed to achieve his latest feat, the United States-Mexico-Canada Agreement (USMCA).
The replacement to the North American Free Trade Agreement (NAFTA) is an example of how a strategy that includes toughness and economic leverage is the perfect approach to bring jobs and capital back to America.
Since the 2016 campaign, President Trump has been sticking to the same, clear message on trade in denouncing NAFTA and all of its deficiencies for American businesses and workers.
President Trump knew that the only way to get countries like Mexico and Canada to the table was to threaten to discontinue their longstanding sweetheart deal.
President Trump made it clear that until Mexico and Canada were willing to agree to a better deal for the American people, counter-tariffs would remain in place to help balance the scales.
And when Canada still balked, Trump simply reached a separate agreement with Mexico and set a deadline for Canada to join the party. Faced with the prospect of being left out of the deal entirely, Canada met the President's deadline at the last hour.
People criticized President Trump when he said, "NAFTA goes down as one of the worst trade deals in the history of our country. It emptied out millions of jobs. It emptied out factories and plants all over the United States. It was a very unfair deal and a very foolish deal. And in fact you could say a very stupid deal for the United States to make."
But he was right. NAFTA was a disaster for the American people.
From 1994 to 2010, nearly 700,000 jobs vanished from the United States… and turned up in Mexico.
Almost 80 percent of those losses were in manufacturing, as companies shuttered American plants to take advantage of lower wages and looser regulations across the border.
Even those who were fortunate enough to keep their jobs couldn't escape the pernicious effects of NAFTA, which drove down wages, especially for blue collar workers.
The USMCA replaces an outdated trade deal that gutted American capital with one that puts American interests first.
For starters, it opens up the Canadian market for American dairy producers, meaning that farmers in states like Wisconsin will be able to export more of their products to Canada.
It reinvigorates American car manufacturing, as well, by ending tariff-free treatment for cars if more than 25 percent of their parts are foreign-made. Previously, nearly 40 percent of a car could be made overseas — in countries where labor and environmental standards are virtually non-existent — without being subject to tariffs.
Also, unlike NAFTA, the USMCA will be subject to review every six years, giving our country the leverage it needs to make sure that the deal stays fair and reciprocal.
The USMCA is just the latest addition to the long list of victories President Trump has scored on U.S. trade.
Deals struck recently with the European Union and South Korea incentivize companies to re-invest in the U.S. economy and bring business back to American soil.
China is the largest trade partner that has yet to realize that under President Trump's leadership, America is no longer backing down — but they're already starting to feel the pressure.
Early economic indicators suggest that Chinese manufacturers are already experiencing a pinch from President Trump's tariffs, and the Chinese government has introduced stimulus measures intended to help them weather the storm.
Unlike past presidents, President Trump is actually doing something about the problems America faces. The President has used bold leadership and counter-tariffs to fulfill his campaign promise and deliver new trade deals that are boosting America's economy and bringing jobs back to the United States.
Donald Trump talks tough, but he backs up his talk with equally tough action to get good deals done for American workers.
Steve Cortes is a CNN political commentator and a member of President Donald Trump's Hispanic Advisory Council. He was also featured in TMA News Bulletin's September 2018 cover story on Immigration.