TMA honors 51 Related Theory Apprenticeship Graduates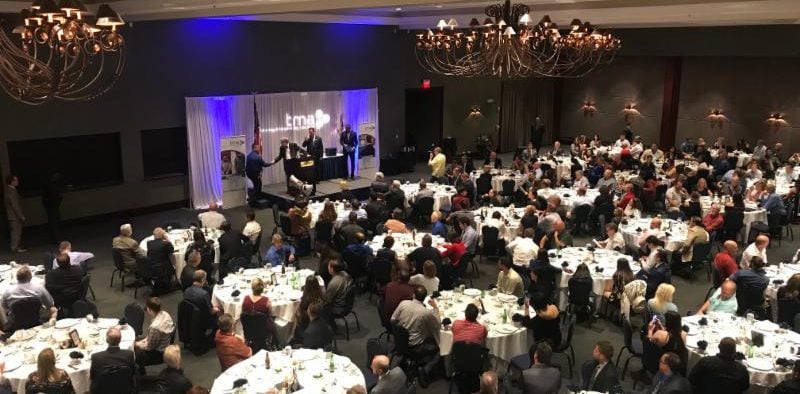 HOFFMAN ESTATES, IL – Fifty-one students graduated from TMA's Related Theory Apprentice Program May 24th, surrounded by their family, co-workers, and TMA representatives at the Stonegate Conference & Banquet Centre in Hoffman Estates. These students successfully completed the three-year program while working full-time at their TMA sponsor companies. 18 graduated in Mold Making, 18 in Computer Numerical Control (CNC) Programming, and 15 in Tool & Die Making.
TMA welcomed two guests to encourage this year's graduates: National Institute of Metalworking Skills' executive director Montez King and Illinois Deputy Governor Leslie Munger.
"I can tell you this much: you have entered into a gateway of endless possibilities. Only 16% of all high school seniors are interested in the jobs you graduates are pursuing. More than 50% of all jobs in the work force require more than a high school degree, but less than a bachelor's degree. Plus, jobs that require more than a high school degree but less than a bachelor's degree earn more money than people with bachelor degree careers," said Montez King, Executive Director of NIMS and Member of the President's Taskforce on Apprenticeship Expansion. "I want to thank the families for supporting the graduates, and I especially want to thank the graduates for going through the hard work to get to this milestone in your life."
TMA's Related Theory Graduation was for students who have completed the three-year Apprentice Training Program. Students attend class twice a week from 6pm – 9pm for 28 weeks each year, in addition to working full-time at their sponsored TMA member company. During their first year, they are taught basic skills such as shop math, blueprint reading, and the basics of machine tool technology. In their second year, students begin their discipline in mold making, CNC programming, or tool & die. In their third year, students continue their education with more advanced training. Certificates were presented to students for their chosen track by their specialized instructors and King.
Deputy Governor Leslie Munger said the graduates' represent the progress Illinois continues to make as a national hub for manufacturing.
"This program and you, the graduates, really personify the great strides we are making in manufacturing in Illinois. Illinois is the heart of manufacturing in the US and I think we could also say that manufacturing is really the heart of Illinois," said Deputy Governor Leslie Munger during her opening remarks. "With the education, training, and hard work of all the graduates here, Illinois will have a competitive advantage over our neighboring states in the most critical, number one need for companies today – a skilled workforce. Apprenticeships are a win-win for both the students and the company: students get an opportunity to both learn and earn the skills they need, and companies get employees trained in the exact skills they need for their job."
TMA holds a ceremony for related theory graduates every year – and offers continuing education classes for its students. TMA members employ the students and fund the cost of the classes as benefits for their staff.