TMA Member Toyoda Wins 2017 PACE Award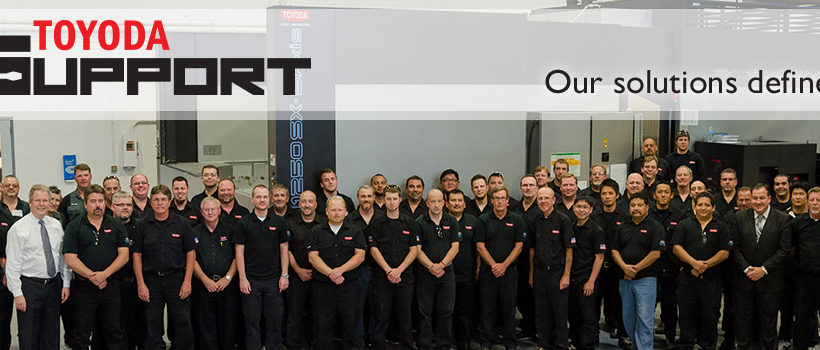 ARLINGTON HEIGHTS – One of our TMA members was the first machine tool builder in 15 years to win a 2017 PACE Award in Detroit April 3, 2017.JTEKT Toyoda Americas Corporation based in northwest suburban Arlington Heights, was recognized for breakthrough solutions in advance automotive solutions.
JTEKT Toyoda Americas Corporation was named a 2017 Automotive News PACE Award winner at an April 3 awards ceremony in Detroit.  The prestigious award recognizes automotive suppliers for superior innovation, technological advancement and business performance.
Toyoda was recognized for its high-speed synchronization technology found on the GS300 & GS700 Multitasking Horizontal Machining Centers. This innovative process has reshaped the standard gear manufacturing process which requires a single part to travel from machine to machine – thereby significantly increasing concentricity error. Comparatively, Toyoda's innovation takes five processes traditionally spread across five separate machines, and integrates them into one machine while utilizing high-speed synchronization to produce parts with more accuracy, less time, less cost, and less risk to the manufacturer.
"In this ever-challenging industry, Toyoda is committed to proactively transcending industry standards – striving to develop new products and processes that will better the manufacturing community. Toyoda's Gear Skiving machines serve as an exemplary representation of this philosophy. We are honored to be recognized by PACE as an organization that brings innovative technologies to the automotive industry," said Howard Michael, President & COO of JTEKT Toyoda Americas Corporation.
The 23rd annual PACE (Premier Automotive Suppliers' Contribution to Excellence) Awards were presented by Automotive News, EY and the Original Equipment Suppliers Association (OESA).  The competition was open to suppliers that contribute products, processes, materials or services directly to the manufacture of cars or trucks.  The Automotive News PACE Award is accepted around the world as the industry benchmark for innovation.
J Ferron, PACE director of judging, said this year's awards recognize the technology pressures the industry is facing as automakers push for fuel economy gains and autonomous-drive capabilities.  "Innovating products and processes for these future needs means surmounting today's technical barriers while simultaneously convincing OEMs that those barriers will fall in time to launch vehicles," Ferron said.
JTEKT Toyoda Americas Corporation earned an Automotive News PACE Award following an extensive review by an independent panel of judges including a comprehensive written application and a site visit.